ESCORTS DIGITRAC - CASE STUDY
Case Review
How Escorts Enhanced B2B eCommerce Experience?
With the combined functionality of Magento Commerce 2 and Magento Business Intelligence, Escorts Ltd. made order placement and management easy and hassle-free for its B2B & B2C customers.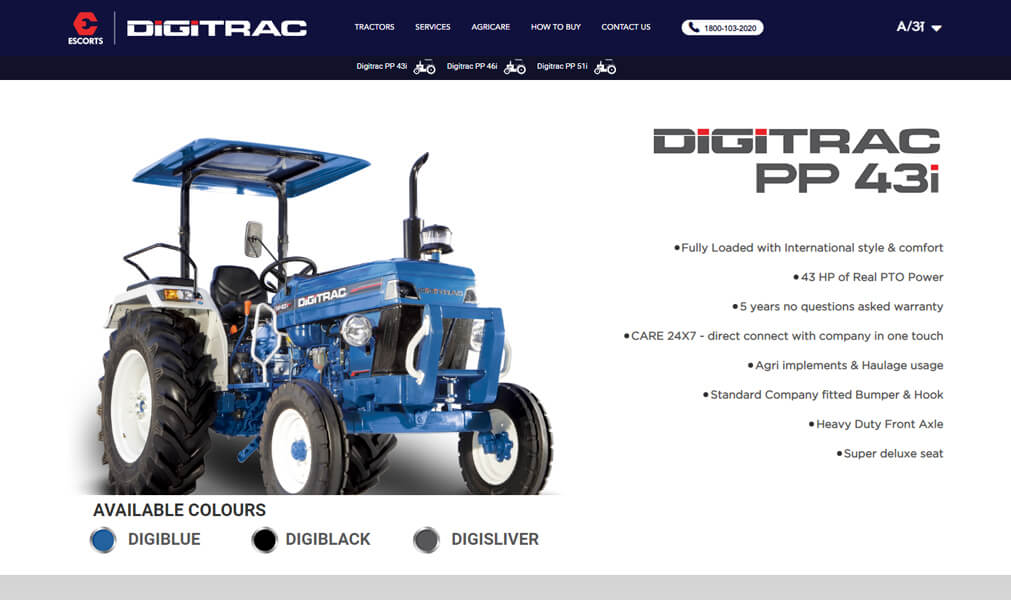 ESCORTS BUILT AN ONLINE MARKETPLACE WITH MAGENTO COMMERCE 2
The Escorts Group is an Indian engineering company that operates in the sectors of agri-machinery, construction and material handling equipment, and railway equipment.
NEED FOR A STRONG ONLINE PRESENCE TO OFFER EFFECTIVE FARMING SOLUTIONS
Offline shopping required customers to find a nearby distributor, cover a certain distance to purchase their choice of products, which was a bit time-consuming and strenuous procedure.
MAGENTO COMMERCE 2 TO DIGITALIZE CUSTOMER EXPERIENCES
Build a streamlined farming ecosystem DiGiTRAC, that runs on Magento Commerce 2
Oracle ERP to effectively manage order creations, processing and financial activities
Image Recognition and Real-time IoT based tracking
ACHIEVEMENTS
With the launch of DiGiTRAC application, Escorts became the first-ever in agriculture market that created a digital showroom for farmers.
With the help of Magento Commerce2 and its robust features, Escorts Ltd. created an improved customer experience that keeps customers engaged with its comprehensive range of tractors, real-time data, doorstep service and expert advice.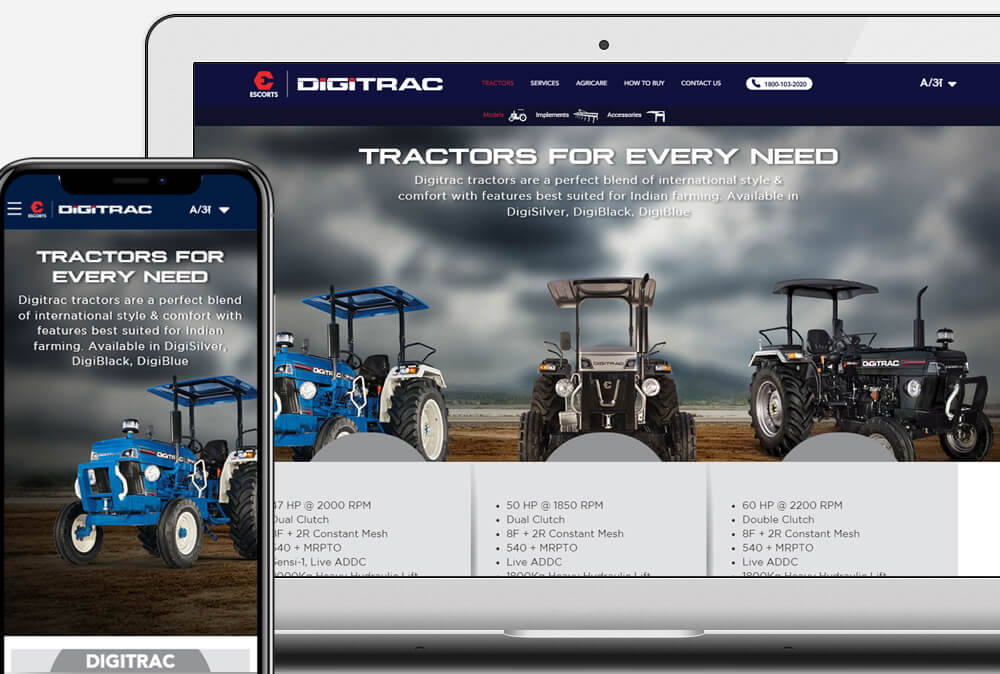 The need for a robust B2B sales platform
Escorts Ltd is one of the largest Indian engineering brands that manufactures and provides agri-machinery, construction machines, and railway equipment. Since 1944, we have been helping the farmer community and agricultural enterprises in driving innovation in their business operations through cutting-edge engineering solutions.
Manufacturing and selling agriculture machinery solutions in over 40 countries across the globe, we have always invested in cutting-edge digital technology and rigorous research & development. In 2018, we decided to create a digital presence and make our product catalog available for online shopping. The idea was to make it easier for our customers to buy our machinery and equipment from the comfort of their home, office or just about anywhere there's an internet connection. In addition to improving the customer shopping experience, we aimed at creating an easy way for our distributors, local service dealers, and customers to connect on a unified platform. As suggested by our Magento solution partner- 18th Technology, we chose Magento Commerce to meet these goals.
Built a seamless brand experience through digital commerce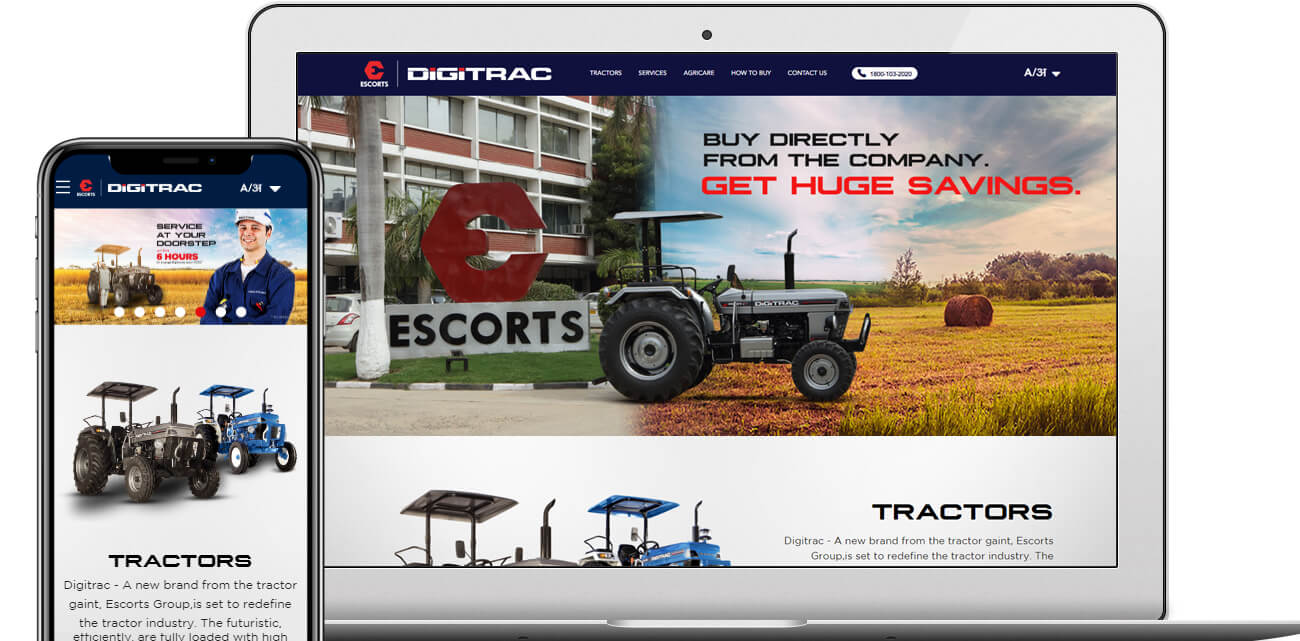 Together with 18th Technology, we built and launched a unified, innovative shopping platform-DiGiTRAC. This mobile application is powered by Magento Commerce and is India's First Online Tractor & Agri Services Platform. Before the launch of digital prototype tractors, we had been working offline with service dealers and distributors to market our engineering products and services. DigiTRAC has drastically streamlined the way our B2B and B2C customers can avail of our products and services.
DiGiTRAC caters to two consumer groups - individual farmers who purchase Escorts's automated, digital prototype tractors (B2C); and a network of our authorized distributors and local service dealers (B2B). Apart from allowing farmers to browse and purchase autonomous tractors, DiGiTRAC is equipped with a range of features that make selecting and purchasing spare parts, hassle-free for local service dealers.
With this highly integrated platform, service dealers have the ability to directly place an order for machinery spare parts online to the required distributor. Dealers looking to expand their existing inventory can simply browse and select the required parts to add to cart. In case, the dealer doesn't already have certain spare parts required to service a tractor, the system automatically adds them to the cart. Once the required items are in the cart, the dealer can proceed to place the order to the desired distributor by clicking the 'Place Order' button.
Next, the DigiTRAC application integrates with Oracle ERP to effectively manage order creations, processing, and payments. After the order is placed, Magento leverages Oracle ERP to check the availability of the ordered items with the concerned distributor. In case the concerned distributor doesn't have the required spare parts in stock, the system checks the availability of the same with other local distributors. Once the availability of items is confirmed at any authorized distributor, the order is processed and a "Purchase Order" (invoice) is created in ESMS. Simultaneously, emails and SMSs comprising important details of the order, are sent to Digitrac Support and the service dealer.
To ensure quick and smooth delivery of shipments, DigiTRAC has been integrated with a third-party CRM which allows DigiTRAC support and service dealers to efficiently communicate and coordinate with distributors. Distributors have a TAT of 24 hours to ship ordered spare parts to the designated location.
Once the shipment is delivered and the service dealer has confirmed the receipt of all items and full payment to the concerned distributor, DigiTRAC support adds 'Purchase Order' details to the Magento backend and the service dealer's inventory is automatically updated. In case, the spare parts are purchased from multiple distributors, Digitrac Support will add the details of all the invoices from different distributors to the backend.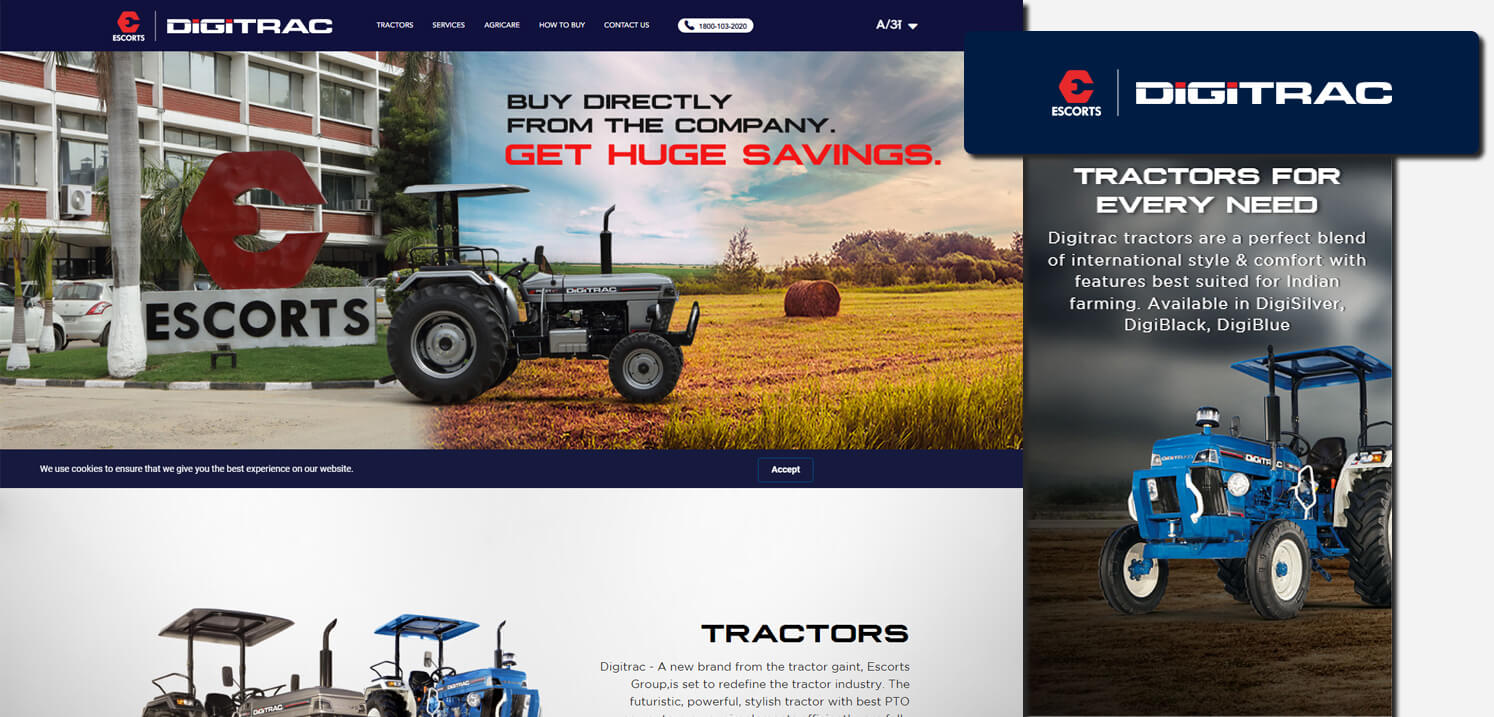 Improved Customer Service Quality and Brand Integrity
It took 6 months for the feature-packed Digitrac application to complete and launch. Today, we have 4 authorized distributors, 37 service dealers and 13 project officers in Punjab region using our innovative app to meet their requirements. What's more, there have been over 500 downloads and 23 service requests addressed successfully through DigiTRAC. These statistics indicate a significant growth in terms of sales, customer base, and customer satisfaction.
With DigiTRAC, we have been able to offer our customers personalized shopping experiences and support. It has greatly reduced the time for farmers and service dealers to find spare parts in emergency situations. Not only can customers search for required parts on the app anytime, anywhere, but they can also achieve greater transparency into order placement and processing while knowing that they are buying from a reliable source.
Framework
Magento - Ecommerce
Key Info
1st Magento Store in Punjabi
5K app downloads in 3 months
Fastest delivery within 6 months